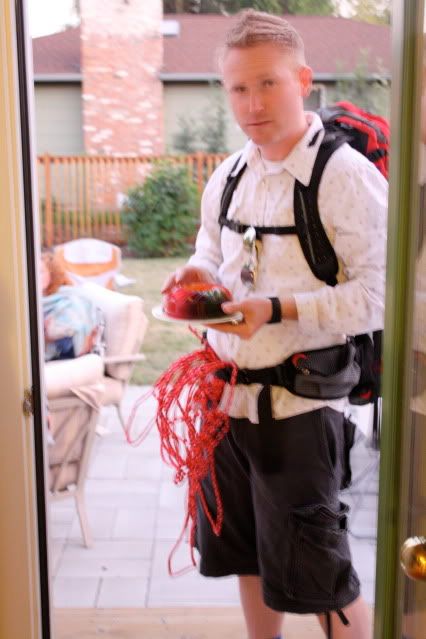 On Monday against my better judgement I let my husband take me to Wingers. Just typing it and my fingers bloat up!
The Wingers in Moscow was burned to the ground last year in a fiery furnace of months old frying oil and we didn't honestly think we'd live to see the day those saucy doors would reopen. But miracles do happen and those wings, they're just as bad for you as they used to be, friends.
I don't know what got into The Holbs's head to request Wingers but it was his birthday and I am nothing if not the bearer of all of The Holbs's dreams come true, so it was Wingers, and I smiled in the car all the way there.
I ordered a veggie burger and a swapped the fries for a side salad no bacon/no cheese and
dressing on the side, please Heavens!
I took the fun right out of that place, I know.
Partway through our transfatty meal the fire alarm went off.
I am so not cheesing you.
The fire alarm went off and the waitress nearest us shouted, her eyes as large as saucepans,
"Popcorn!"
Sure as shootin, a bit of air blew in our direction bearing the wondrous scent of burnt popcorn.
The Holbs and I exchanged incredulous looks.
"What are the odds,
(I could tell he was communicating to me via eyeball)
that we would be here as the Wingers burned down again,
after it burned down the first time,
and on my birthday too?"
I could tell his eyeballs were saying this to me. Six years practice, folks.
My eyeballs were clearly shouting,
We might get free dessert!
Waitresses dodged to and fro. Petrified customers, convinced they had eaten of their last meal (and what a way to go!) blinked at each other in a panic. Then there was a mass exodus; college girls with teased-up hair and old men in WSU sweats and middle-aged women in cotton separates all stood up with their belongings and jackets and shuffled down the aisles to the front exit and certain freedom.
I looked my brave spouse straight in the eye and asked, heroism thick in my voice,
"How's your chicken wrap?"
But only with the screeching fire alarm it really went like this:
"How's SCREECH chicken SCREECH-ap?"
The Holbs hollered backatcha,
"NotSCREECH very SCREECH"
I offered him half my boring no-fun veggie patty using elementary sign language. Gesture to plate, shrug up shoulders, eyebrows cocked.
Then I looked around the now empty dining establishment and watched the football game for a minute while waitresses dashed about looking stressed about.
"SHOULD WE BE EVACUATING?" I asked the skinny blonde one.
"SURE! UH, ONLY IF YOU WANT TO."
SCREECH
"IT'S JUST THE POPCORN MACHINE."
SCREECH
"It's Just The Popcorn Machine" was about to be etched on my tombstone.
(Only but I wish to be cremated.)
SCREECH
(And maybe I am to get my wish this evening, all for free and stuff?)
SCREECH
But then as mysteriously as it started, the screeching stopped. My ears buzzed at the silence.
"Do you want dessert?" The Holbs asked me as restaurant patrons slowly shuffled back into the restaurant and towards their tables.
I wondered if it would be hard to locate your table after having been outside, as it sometimes is for me after using el baño fantastico. You know how that happens?
"Is this my plate of greasy fried chicken wings? Or is that my plate of greasy fried chicken wings?"
When we got home The Holbs buried me under a mountainous crag of blankets and then went to the gym to sweat it out.
I thought about how nice it is to have a Holbs of my very own, to fetch blankets when I am cold and glasses of water when I am parched and escort me to nice places such as the Wingers on birthday celebration nights. I thought about other girls who don't have a Holbs, I mean, what do they do with themselves?
I sure am glad the Holbsmama thought to feed him all those years and take him to get his yearly vaccinations and what.
Here's to you, Holbsmama. You're all right by me.