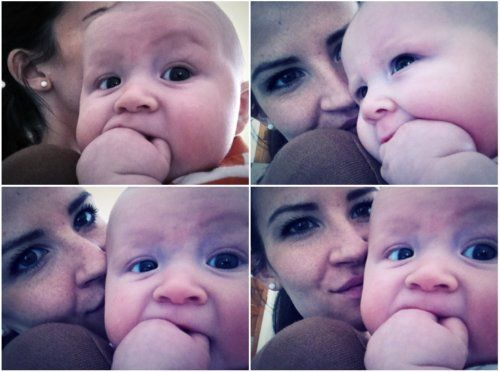 behold the lashes, when they were real
if i could take this whole weekend that i just lived, bundle it up into a cute little package, and then top it with a pearly bow of wisdom, it would look like this:
please be careful with your eyelash curlers.
the first thing i thought after i stumbled sideways while attempting to curl my lashes and push huck's bouncy chair with my foot at the same time, thus ripping out the entirety of the eyelashes on my left eyelid, was: huh, i always figured this would happen to me eventually.
the second thing i thought was, that did not hurt nearly as much as i thought it might!
and then i realized what had just happened, and i fell to my knees and rent my clothing in despair! (not really.)
noooooooooooo!
i thought.
my one true beauty!
oh brother it is startling how much of one's feminine identity is kept in your eyelashes. and what of me now? huh?
brandon came home from his walk with the pooches while i was in there trying to be brave about things.
"no matter!" i was saying in a chipper tone to my huckleberry, who, let's face it, was entirely to blame. "just eyelashes! they grow back! right? don't they?"
and then the holbswalker took off his scarf, triggering a massive release of pent up emotion.
"what happened?" he asked.
"let's not talk about it, i am in the depths of despair," i answered.


i walked resignedly into the bedroom and laid my bones on the bed in a tragical heap. i bemoaned my very existence. i dreamed up wild solutions, like winning the lottery to pay for eyelash extensions, or ripping out the rest of my lashes and calling it "art!" or possibly never leaving the apartment.
i will tell you i have never felt more
anne-shirleyish
in all of my life. it's good for you sometimes. that's my theory anyway.
eventually i remembered this thing called "false lashes," which are actually pretty cheap and somewhat realistic looking these days, and then things perked up quite a bit. especially since i realized that i could justify an immediate trip to the duane reade to get some. going to the duane reade is one of my most favorit things to do lately. while i was there i could probably also look at nail polish colors and get a pack of twizzlers.

and so, really . . .
and, they grow back! right?
i mean, don't they?