i have every reason to love my apartment.
i have lacy curtains on the windows, and a mary poppins view of rooftops and tree tops and water towers and clouds of steam and smoke just beyond. the brick buildings outside sing red and gold and brown and yellow.
i have tulips in planters along the sidewalk, and a canopy of blossomy trees overhead. central park lays yawning and sleepy just down the street.
my prewar ceilings stretch high, my bathroom is green. my floors are original hard wood. my front door is silver, and banged up in the most perfect kind of way. the bedroom is spacious, the neighbors are gracious, the maintenance guys call huck "king henry." they make clucking noises at him, they praise his glorious fatness in spanish. they don't mind my incessantly stupid canine lovers.
i'd very much like to somehow, in some way or another, feel permanent here. this place is so beautiful and sweet, and though i'm not sure i'm meant to make it work, i have decided i am going to try. try really really hard.
but.
the kitchen is not to be cooked in. there is nowhere to keep pots or pans, only one drawer for all of the things that have to go in drawers, and any cooking attempt requires temporary relocation of every kitchen item i own, plus a step stool, and also i am standing in the living room during all of this because the living room
is
the kitchen.
this certainly conflicts with my gwyneth-paltrow-type dreams of organic microgreens served on a rustic farm table, all those mismatched metal chairs, and my collection of wrinkly white linens.
i have no room for guests. no comfortable place to sit, no entryway for welcoming or goodbye hugs, absolutely nowhere for a second stroller or good spread of toys on play dates.
the hallways beyond the door echo with every footstep, every clanking key, every turning doorknob, every neighborly conversation, and every drunken belch at the elevator bank. the dogs bark and growl and pace anxiously.
but. as it turns out, our only closet happens to be just the right size for our tiny baby crib. so our one bedroom, 300-square-foot tiny palace in the sky is actually a two bedroom, 300-square-foot tiny palace in the sky.
oh the riches of a two bedroom apartment in manhattan! how lucky can a girl get?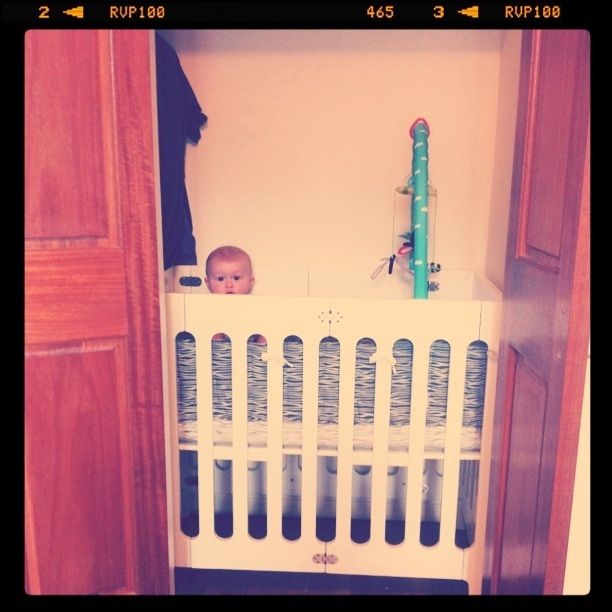 (until we can afford a real two bedroom.)