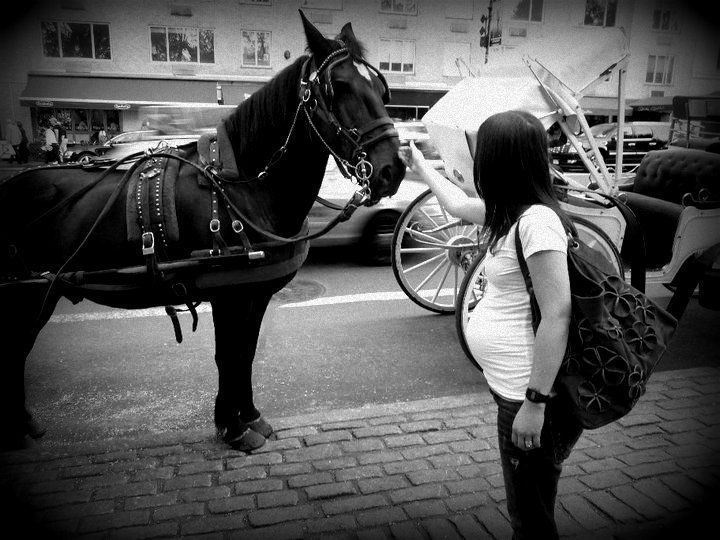 I have had this post draft sitting in my Blogger queue. It says, "My Holbs likes to cook with soy sauce." And nothing else. I opened it yesterday and thought, where was I going with this one I wonder?
Lately The Holbs cannot use the restroom without Barnaby following him in. The two are simply inseparable. Sometimes Brandon will shout at me from the bathroom, "Is Barney waiting for me?" and if the answer is yes (the answer is always yes), he will crack open the door to let him in and Barney's ears will perk up with excitement.
It is so weird.
I spent a good chunk of my morning
having my Huck examined. Doctors were concerned he was measuring small so the nurses sent me to the ultrasound wing for a quick peek. And then there he was, this big old baby in my not very big abdomen, and the Tech did her voodoo and decided he looked to be right about six pounds, two ounces. Not small. Just right.
"Well, you're free to have this baby whenever you'd like," is what she said. And then I got all sorts of crazy ideas!
The air outside was crisp
as I waited for a taxi that felt right to me, and suddenly the Autumn air and my six pound fetus were conspiring together.
"It's only, like, fifty blocks--let's walk!"
whispered the breeze through my hair.
"Maybe we shall go into labor!"
shouted my irrational 37-week hormones.
"I weigh six pounds and two ounces!" my Huck reminded me.
So I texted my husband the plan:
I am going into labor today! Possibly. But probably not! Keep you posted!
And then I saw an H&M across the street and decided not to go into labor until after I had checked it out.
It was a very good day to walk down Central Park South
, because I got to stroke five velvety horse noses and experience one very deep and significant emotional connection with a chocolate brown lover of a horsey, who is probably called Lloyd (if these things are up to me).
I love to walk past the horses parked on Central Park South. There is something so sweet to me about a working animal, and the pride they must take in their work, and the stalwart way they carry themselves. But also it always makes me feel very sad, and I always want to pull an Elliot and free all the frogs in the science lab. Run wild, horsies! Maybe one day I'll work up the courage to tear through that place, setting them all free, never to haul a tourist through Central Park again.
I didn't go into labor
, and I didn't free any horses, but I did have some salad bar at the Whole Foods, and I even made it home in time to walk my dogs past tall piles of garbage before the garbage trucks came by.