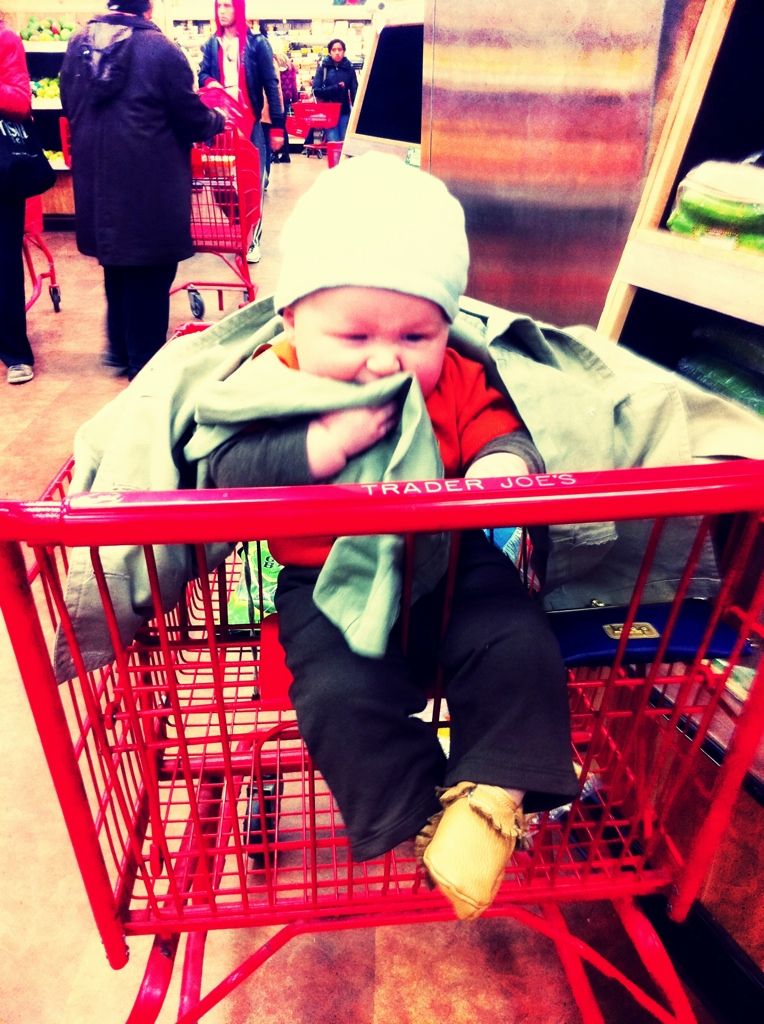 Everywhere we go, my Huckleberry is the man of the day.
Women stop dead in their tracks at the grocery store to say, their hands over their hearts, "Oh!"
Pediatricians walk into exam rooms with vaccines in their needles and gasp, "That face!"
Old men wink at him on the sidewalks, and say to me, "Keep having babies. You're obviously good at it."
Fancy Jewish ladies in fur coats proclaim him "The best baby I have ever seen in my life!"
Huck is a like drug. One hit of his smile, one dose of his squeals (with his fat body tensing up in complete excitement), and you're immediately addicted to babies for life. I want a million more Huckleberries. One after another after another after another. I'm afraid that I won't be able to go a minute without a Huckleberry in my arms ever, ever again.
And do I sometimes get lost? Just the mom behind the adorable baby? "Don't mind me, I just birthed him, that's all."
Um, yes. But happily so. Everywhere we go, I get to see faces light up, bad moods melt, and grizzled New Yorkers turn to a puddle of goo thanks to this silly little baby. What could be better than that?
Sometimes I think I can look into my Huckleberry's eyes and see straight though to heaven.


I get a lot of emails from readers who are struggling with infertility. I want you to know how much your trust means to me, and how much I pray and hope along with you. And I also want you to know: it is worth it. Huck is worth every negative pregnancy test, and every depressing moment. Every single second.
Yours will be, too. I promise.
I just love that I can share him with you, and with strangers on the street, and with my fellow grocery shoppers at the Trader Joe's.
He's my miracle, but I like to think he is also yours.
I hope that when you see him, you can see heaven, too.