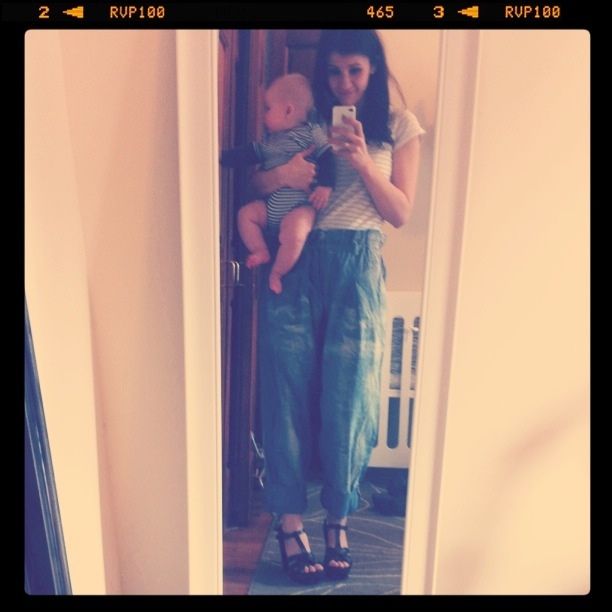 Today I wanted nothing more in my sad little life than to put away some winter clothes and feel a little more organized. I had just taken the trash to the basement when I bumped into my favorite maintenance guy Miguel, and Miguel was all, "Oooh, King Henry is so STRONG! So CHUBBY! So WONDERFUL! And apartment 301 is empty do you want to go look at it?" And I was all, "shyah!" cause looking at apartments that are bigger than mine and make me want to cry is my very favorite thing to do lately.
Huck and I charged forth into the maintenance elevator and in a jiffy we were on the third floor. I really love that maintenance elevator. I feel like a queen in there, it is just a lovely little thing to be carted around to different floors by a manually operated lever.
Slightly related: Attending scouting operations on different floors in my building is always a trip because every floor
looks
like my floor, but not every floor
smells
like my floor. My floor always smells like stuffed red peppers, but the third floor, well, today the third floor smelled like pasta.
And oh, I can tell you, I know heartbreak. Intimately. Yes, I know heartbreak, and her name is 301.
Living room space! A hallway for the stroller! A kitcheny-type kitchen with room for a T-A-B-L-E (we must spell it out because lately that is a dirty word). The bedroom was huge, and, a walk-in closet!
The only thing she was missing was my mintyfresh green bathroom, but look Greenie, don't get too comfortable.
I left that apartment with stars in my eyes. I promptly called up my landlord to work out a deal only to find out it had been RENTED ALREADY. Probably only seconds before I called because that is just how the Universe likes to play me lately.
So the moral of the story is, when you are stuck for time and all eternity in a too-small apartment, you organize crap, because what else are you going to do?
And so it was that today, during one of Huck's six 20-minute naps, I discovered this bizareness going on in the back of my closet.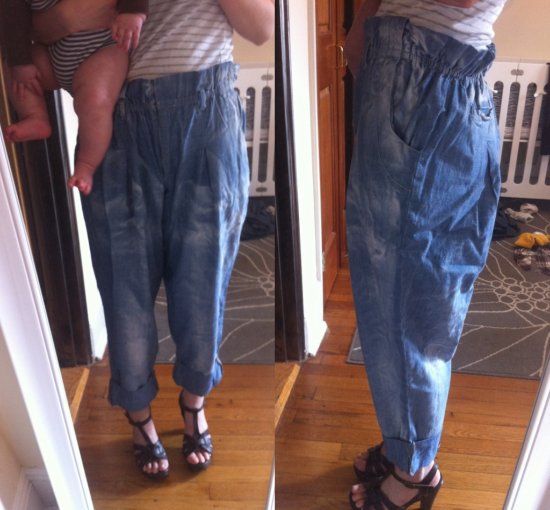 In my defense I am pretty sure I bought them at a sidewalk clearance sale for five dollars while pregnant. This is no defense at all because really, who buys stuff while pregnant but stupid people? (Also I think I recall buying them on a SUNDAY. woops!)
While I was trying the pants on (if you can even call them pants), Huck woke up from nap number four. I was glad, I needed a second opinion. The two of us took a moment, and we pondered.
I'm at a loss.
They are clearly so bad that they have swung around to awesome, only they have also swung clear past awesome and into the dreaded "I can't tell" category of fashion, which is probably why I should definitely keep them and wear them like a champion.