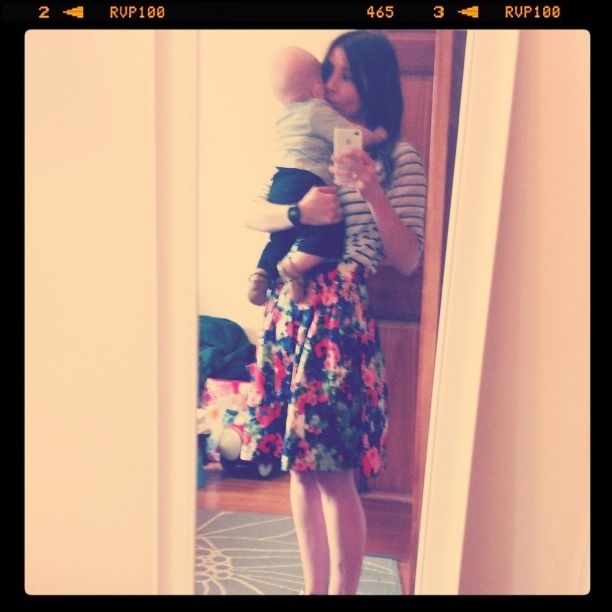 SHIFT #1 (8AM)
Awake with terrible allergies.
Kiss husband off to study.
Suckle first born son (I just really wanted to use that word "suckle").
Put on make up and curl my hair while Huck jumps in the jumpy chair.
Become entirely disgusted with state of affairs in the bathroom and scrub the whole dang thing top to bottom while singing "Twinkle Twinkle" and the
Hot Dog
song at increasingly loud volumes to satisfy an increasingly grouchy baby.
Think up a wild excuse to run errands.
Decide to toss out the old moldy shower curtain in order to "need" a new one.
Out the door, neighbor in hall says "Good morning!" Think, i
s she on crack?
Look at watch, it is only 9. Think,
am I on crack?
OUTING #1 (9AM)
Walk to Bed Bath & BEYOOOOOOOND!
Laugh to myself at how the Bed Bath & Beyond doormen are wearing top hats, like I always do.
Find shower curtain, become distracted by my allergies, wander to air purifiers.
Become alarmed when Huck starts hooting at me and I have no toys on hand. Start narrating my every move and thought with grandiose gestures and facial expressions to entertain the owlchild.
Laundry detergent? Don't mind if I do!
Pay for purchases. Decide the Duane Reade has been missing me.
Visit the Duane Reade.
Buy Diet Cokes (on sale!).
NAP #1 (11:00)
Huck naps furiously in his stroller, I realize there is plenty of room in my (not walk-in) closet for Huck's (very mini) crib. His own bedroom!
Impulsively pull all of our clothes out of the closet.
Sweep, dust, wet mop, crib in place, more sweeping, more dusting, more wet mopping, hilarious amounts of clothes rearranging.
Sudden, grand vision of what I should do with new open spaces! Decide to completely redecorate apartment. Scour Ikea/Craigslist and text Brandon the new plans with wild abandon.
Huck wakes up.
SHIFT #2 (NOON)
Play with some fat baby.
Sing lots of Disney songs while I sweep the living room and do the dishes.
Nurse to almost-passed-out status.
NAP #2 (2PM)
Initiate Sleep Training torture per Pediatrician's orders, feel like killing myself. Contemplate getting new pediatrician instead.
Huck finally sleeps. Clean out the fridge. BUT YES I DID.
SHIFT #3 (4PM)
Get a wild hare and walk to H&M at Rockefeller to find warm-weather jams for Huck. No dice, the kid's department is on 34th Street.
While I'm out, decide to walk to Forever 21 in Times Square. Try on rather unfortunate white jeans, nurse and change Huck's diaper in the dressing room. Lose one of his socks. Decide life will go on. BUY NOTHING. This is worth noting.
Stupidly walk to 34th Street H&M. Find warm-weather jams, ridiculous crowds, and an incurable hatred for fellow man.
Take the subway home
Subway lulls Huck to sleep.
NAP #3
lasts only 15 minutes.
SHIFT #4
Discover Huck's lost sock when I change his diaper. The sock was in the diaper. Miraculously it has survived and is unscathed by back end deals.
Feed and walk dogs with Huck in the Ergo. Apologize to Puggle owner even though it was obviously her Puggle's fault.
Bedtime.
Initiate Sleep Training Sequence Attempt Two. Goes slightly better this time.
Settle in bed with
Bossypants,
a 2 Liter of Caffeine Free Diet Pepsi, and attempt to drown my allergies in kettle corn.
Await return of the husband who will undoubtedly be too tired to tickle my back, but who will be super excited to see that I found a shower curtain liner with metal rivets. High five!
Here are this week's Babble posts.


I am really thinking of getting a new pediatrician (she wants me to stop
swaddling
now too)
Could this be an
earache
? (Spoiler: teething)
Day seven of my
nursing experiment
, with lots of beautiful reader-submitted nursing photos.