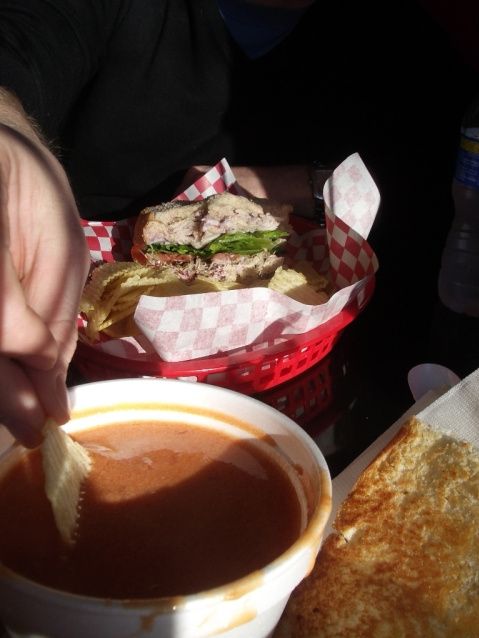 Today I got to church super late
. I didn't really have any reason to be late, I was just late because I wanted to be late. You can do that when you're a grownup.
Also, I ate nothing but breakfast foods today.
After church I happened to see on the TV Guide channel that a movie I was interested in watching was coming on channel 31 at 8:00. We only have cheap cable, so, no Info button or whatever. So I checked my watch. 6:00. Then about twenty minutes later I promptly forgot what movie it was that I wanted to see. So it was this mystery! What movie was it? I kept asking myself but I kept not remembering! I tried recreating the scenario wherein I saw the movie scroll across the screen to see if it helped. I tried watching the TV Guide channel but I kept forgetting what I was looking for. It was all too weird.
Don't change the channel! I told The Holbs. A movie is coming up that I want to watch!
Oh, what movie?
I don't remember. But, don't change it!
Then I had to suffer through two hours of the new Charlie and the Chocolate Factory, a movie which I do not like. But I sat through it, because I knew the pay off would be good, I just couldn't remember why.

Finally a few hours later the movie ended. I sat up straight. It went into commercials. The suspense was killing me. What movie did I want to watch so bad I sat through bad Tim Burton to see it? I was about to find out. The dogs sighed on my lap. I shushed them.
Then the Target Thanksgiving commercial came on. I love that Target Thanksgiving commercial! Guest beds in the garage? It kills me. And then it was over. The movie started. It was . . . Disney. It was . . . animated. It was . . . Meet The Robinsons.

And I went, oh, really self? But then I watched it and it totally made me cry. So.

Isn't that weird?