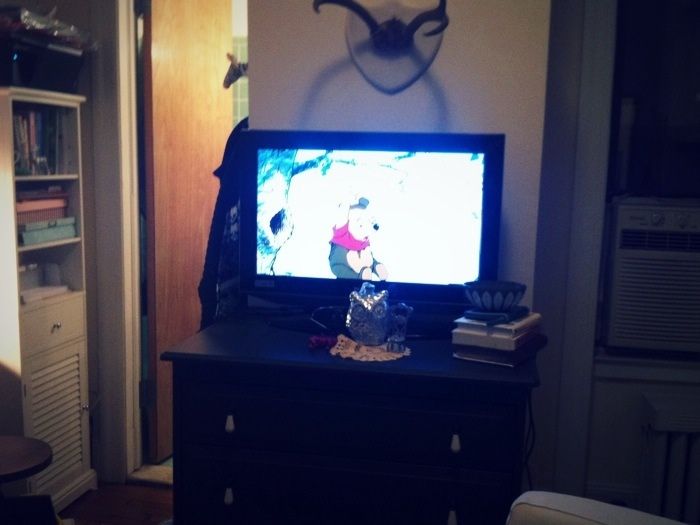 You know what they say . . . if you can't say something nice, talk about cartoon home design instead.
Last night we watched Winnie The Pooh. My mother-in-law sent us our DVD collection from storage and I was so excited to have part of my old house back that the first DVD I saw went straight into the DVD player. I miss that old house in Idaho so much. I can't believe it was 1100 square feet. THAT'S ENORMOUS.
(Maybe next I want ALL OF MY CAKE PLATES shipped to me?)
I have been having a hum dinger of a time feeling chipper about the size of things lately. I think I have size-related depression. I have nothing nice to say about
anything
. We watched Winnie The Pooh last night while B ate a sandwich in the "kitchen" (it's not really a kitchen the sink is only six inches wiiiiiiide), and my running commentary (there is always a running commentary) went something like this:
"Pooh has a full-size mirror! Look at his huge rug. Do you suppose that's sisal? Oh gosh his kitchen is so spacious."
Here's more: Pooh's entire kitchen consists of one (1) table, and one (1)
cabinet of Hunny
. What a lifestyle!
Brandon asked me why Pooh would buy a mirror, since he clearly doesn't understand what a mirror does. But do you think a bear of very little brain does his own furniture shopping? Anyway, I hardly think Pooh would choose a sisal rug so large, if you ask me.
Later that night I rearranged my furniture, in an attempt to soothe the aching size-depressed beast within.
It only sort of helped.