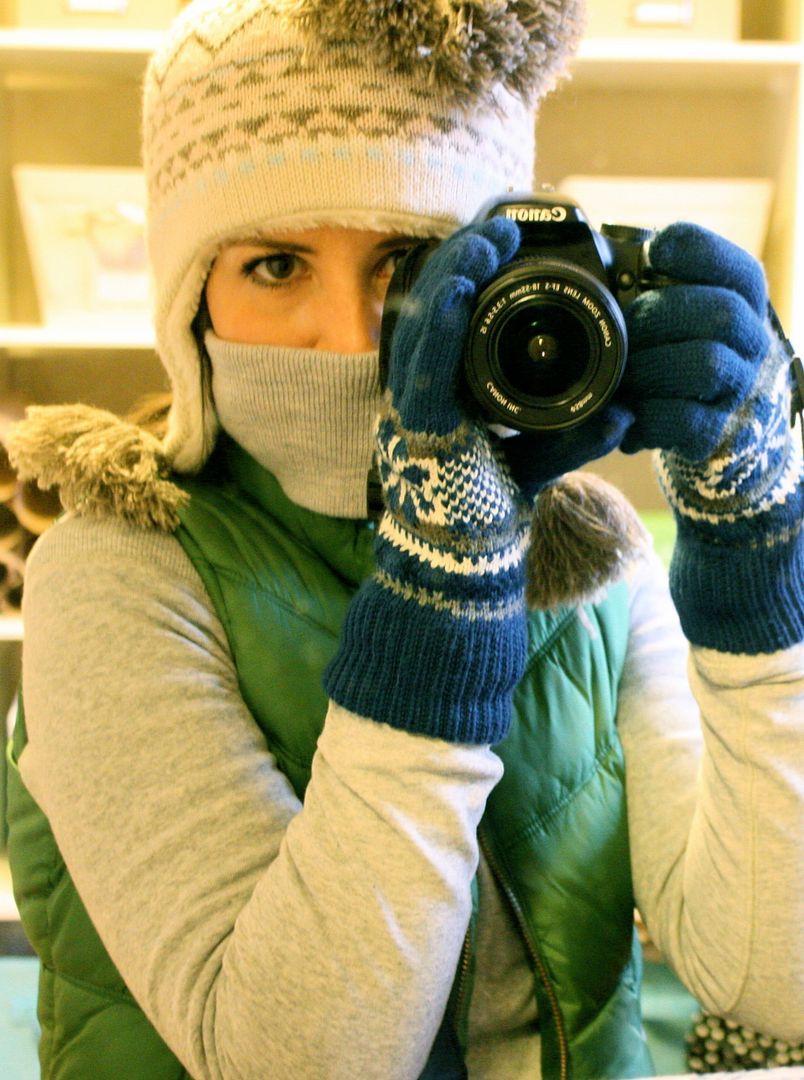 The fact of the matter is,
it is cold outside. It is the kind of cold where any flakes that fall are just remnants of dead clouds. Cloud dandruff. Because it is cold. It is cold outside and I have nothing more to say about that.
I wasn't going to go running today. It is so cold that even the dogs don't want to be outside. Not at three thirty when all those punk junior high school kids are walking past our fence, and not even at five thirty when Jerry lets his dogs out and there is promise of a fantastic battle at the property line. It is that cold. Serious business cold.
I had grand plans for myself and the treadmill. We had a date, the two of us. My sneaks and that rickety thing, we were going to make beautiful miles together. In a heated bedroom. With Hulu on the laptop. And then The Holbs made this sort of off-hand comment. Something about being a wimp?
Suddenly my afternoon contained one three-mile tour of the frozen tundra, with The Holbs that old stinker! Then I put on every article of clothing I owned. Cause it's cold!
I will skip the part of this story where I started off faster than The Holbs and he had to sprint to catch up with me. I will also skip the part where he complimented my form, and the part where I blasted it up the hill and didn't even stop once even though I really really wanted to, and the part where The Holbs had to pee in the porta potty on the trail.

What I will not skip is the part where The Holbs had a cramp in his side and I did not, because this merits some elaboration.
So, The Holbs, he gets this cramp, see.
Ow! he says. He slows down.
What's the matter?
I have a side ache! He wheezes.
I stop. You have a side ache?! I am incredulous. This is the captain of the high school soccer team! The "I-Run-For-Fun!" guy. The "If You Run, Your Butt Might Shrink!" husband. This is the runner, and he has a side cramp? I checked for my side cramp. My side cramp wasn't there! Suddenly my husband has a side cramp and I do not, and . . .
OH-HO! I shout. I have just kicked my husband's trash.
You gonna be okay? I ask.
Yeah, he breathes heavily. It's just, it's right here. He points to his rib cage.
Are you having a heart attack? I ask.


No, no, just not used to running is all . . . I've been doing more lifting lately, because I don't have as much time at the gym because of finals . . .
Oh, well, see you at home, I say. I start to trot off. This is the part where I usually speed up, see, I call back, just to stick it to him.
Then I ran, hard. The Holbs nearly caught up with me about a block away from the house but I ran faster. I didn't even know my stumpy legs could go that fast!
Later to show that I was a good sport I let The Holbs take me to the mall to get a chicken burrito, no rice. We toured the Christmas sausage store and sampled some cheese, we checked out the New Moon merchandise at the Hot Topic (seriously - ??), and then on our way out we passed a bassoon orchestra of sorts playing a Christmas concert in front of the local Ross Dress For Less. This bedazzled me more than trumping my husband at running! I immediately set to documenting this happenstance for time and all eternity on my memory card.
Then The Holbs waved me over. You will get a much better view from this angle, he said significantly. I did not know what he meant by that until I saw it through the lens.
Sometimes the world is just too good a place for words!