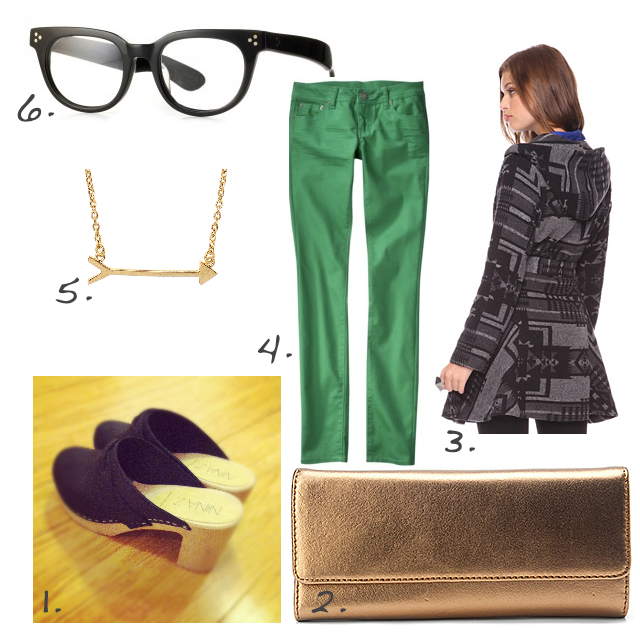 i've been thinking lately about transformative purchases. you know when you find an item that suddenly straightens everything out in your life and suddenly you understand yourself so much better?
the more i thought about it last night the more i thought, "hey! i should blog about this!" which is just the risk you take, you know. here are some of the transformative purchases i've made in the last six months. for whatever it's worth.
1.
nina z clogs
my
nina z
s were a gift, and they are the most excitement my feet have ever known. i love how clunky they are. i love how they look with high-waisted skinny jeans and thick rimmed glasses. i love how nerdy i feel in them. they have made my whole life complete, and they look stupid,
stupid
good with chunky socks.
2. my crazy t.j. maxx hobo international wallet score
i was exchanging a christmas gift at the t.j.maxx last week when i found this sucker for $40. i think it may have been put there just for me by god. or santa maybe.
3. various forever 21 items, blarg
ugh, forever 21, why can't i quit you? forever 21 is so good lately. it's kind of a joke, any time anyone on instagram asks me where i got something, it's 97% of the time from forever 21. linked below are some of my best f21 scores lately, including that very sexy wool number up top:
4. colored skinny jeans
i'm a jeans and tee girl all the way and sometimes it can feel rather boring and lonely (especially with all these style blogs in skirts to make you feel lame). but i've fallen really hard for colored skinnies, which are like flirty skirts in pants form. at target right now you can score a pair of colored skinnies for $20 a pop, meaning one could (theoretically) buy all of them for the price of one really nice pair of pants. and thus we see how, once again, quantity wins over quality in my closet. so sad. i mean, have you seen my stripe situation? (do not worry brandon, i did not buy all of them.) worth repeating: way wonky sizing. try two sizes up, be pleasantly surprised if you only need one size up.
(related: target is also killing it with baseball tees right now.)
5. stella and dot on the mark necklace
my personal policy on items under $50 is that if you ask for it for more than three consecutive gift-giving holidays and do not get it but still want it badly, you're allowed to buy it for yourself. so, i did. i've had it for about six months and i'm madly in love with it.
6. lookmatic fdr frames
aside from the vintage frames i found at the brooklyn flea, these have been the only frames to ever fit my tiny face.
fdr frames
since i've been driving around in the suburbs i've noticed i need them even more than usual. yikes, old age.
p.s. those cheesy crackers from the other day were also life changers, fyi.