while we were in idaho for poppy's funeral, we managed to sneak away to the basement for an hour to look through some of our things from our old house in idaho that we'd boxed up when we moved to new york.
our idea was to leave all of our things in utah until we knew where we'd be living after the holbsattorney graduated from nyu, and then come back to take whatever we needed. if we ended up in the suburbs, we'd take all of it. if we stayed in the city, we'd take just what we could use in our small space and put the rest in a paid storage unit. for an entire year i thought wistfully of my mismatched china collection, my cake plates, my sewing machine, and my wedding album, and of the day we'd all be reunited. oh, my things. it would be such bliss!
some months ago my father in law moved most of it to poppy's house in idaho. and so it was that we were reunited on the evening of poppy's funeral. for a scant hour. it was terribly romantic.
in my dreams we'd have had the time to sort through each box right then, remove what we could use in new york, repack what could be left until later, and feel some kind of peace that things were where we needed them. instead, with just an hour to work, we listed our priorities:
1. find the kitchen aid so we could ship it to our apartment
2. find my wedding album so we could ship it to our apartment
3. find my guitar and fly home with it as a carry on
4. find my wedding dress, just so i could know it was there (silly)
5. leave the rest to be sent to a paid storage unit so we could deal with it someday
when i ripped into that first box marked "kitchen items" my heart nearly broke. there we were, our life in measuring cups and pyrex dishes. pots and pans and hot pads and teaspoons. our own little idaho in the middle of poppy's little idaho. and i cried. the insides of the boxes still smelled like our house, like our puppies, like our lives. it washed over me until i couldn't breathe. and i felt so defeated. there were so many boxes! boxes full of photos and journals and books and clothes, boxes of me, boxes of brandon. and i just wanted to be us in one place again. those things were just things and most were easily replaceable but some are so priceless i feel like they hold my whole soul. my horcruxes (nerd). but where were they? in which box? where were they and where was i?
we found our kitchen aid, we found my wedding dress. we found my guitar. we couldn't find the wedding album (worrisome). but we did find an old scrapbook with these old photos of me inside looking very much like the huckster.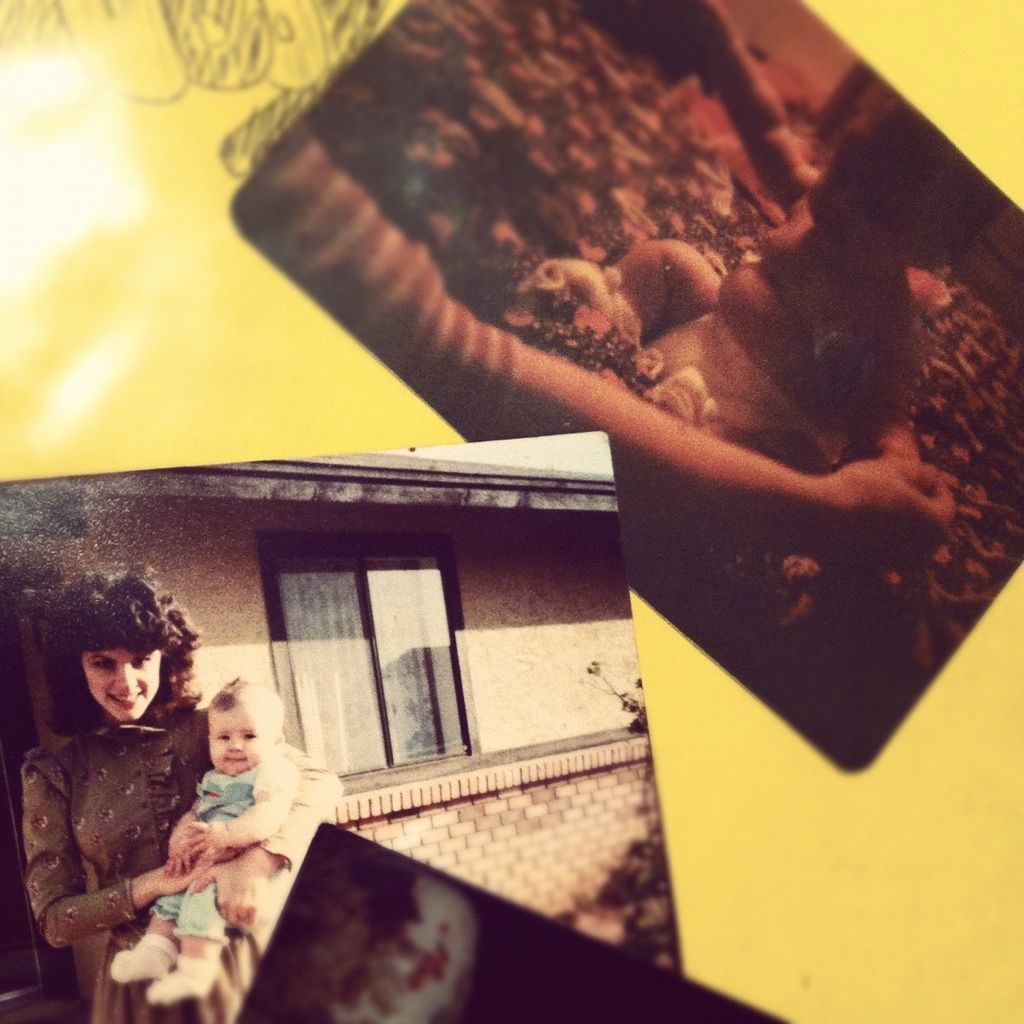 huck, i am your mother.


and then we packed it all back up.

storage is so funny. here comes the obvious statement of the year, but storage stays just as you left it, doesn't it? so that when you open it back up you can almost see yourself as you were in it. your movements and your packing decisions and what you were thinking as you stuffed newsprint in the corners. it's a time capsule of items both tangible and not. of the space where we once existed, of the air we once breathed. as we taped those first few boxes shut again i realized i was replacing that space with a new space. with poppy's space. and i realized i didn't want to open any more boxes.
a few nights later i had a dream. i was in my little apartment in the city with my husband and my baby. the doorbell rang and there were my furbabies, my
petey
and my
barney
, come to visit me. their new owners explained that they wanted to make sure we were doing alright without them.
barney sat by me on the floor and rested his giant black head on my knee. he looked at my henry and my henry looked at my barney while i stroked his giant black eyebrows. i was glad he was there. i glanced over at peter pan, who was sulking in the corner having just peed on the carpet. he didn't want to be there, and i realized i had made the right decision for him. it was such a relief. a terribly sad relief. i patted barney on the head and got up to see my baby petey. i
scooped him up
to give him the proper goodbye
i never got the chance to have
. i buried my face in his neck and i inhaled the scent of his fur. i scratched his ears and i rubbed his back and i sang him our song. i told him how much i loved him, and how grateful i was for my time as his mommy. i told him he could go back to his life in the grass with the big yard and open sky. i told him i understood. i told him i was sorry.
and then peter pan left me. out the door and into the sunlight. and i was happy for him, and glad that i had done the right thing for him that summer.
barney chose to stay.
barney really needed a hair cut.