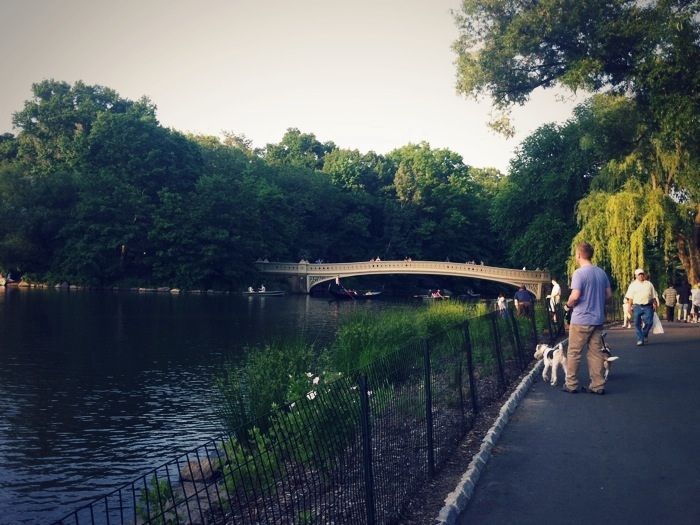 on monday evening the six of us decided to go on a family walk.
me (1), brandon (2), henry (3), petey (4), barney (5), and leila, the doggie we are doggie-sitting (6).
the thing about central park that i love is that i have no idea how to get around in there still.
we wandered along that one bridge that is in all the movies, and past that one fountain that is in all the movies, and then up through the woodlands. i love the woodlands. from the center of the woodlands you can forget you were ever in a city to begin with. it is dense in there, and completely s i l e n t.
on our way home we encountered the famous central park raccoon.
so i've seen this
famous
central
park
raccoon
a couple of times. the first time he was climbing slowly up a tree as a handful of new yorkers huddled around taking pictures.
the other time he was ambling along a playground fence, following a little boy who was feeding him cantaloupe from a fork.
this time he was dawdling along the road, his little feet slap-slapping the pavement. barney was suddenly on high alert, while peter contemplated the shapes in the clouds. i wonder if that raccoon knew how famous he was?
and then i wondered, where is he going? what is his purpose in life? does he have many friends? what does he think of magnolia cupcakes? does he think they are overrated? does he even know he is in new york city? why is he awake during the day? do you think he is rabid?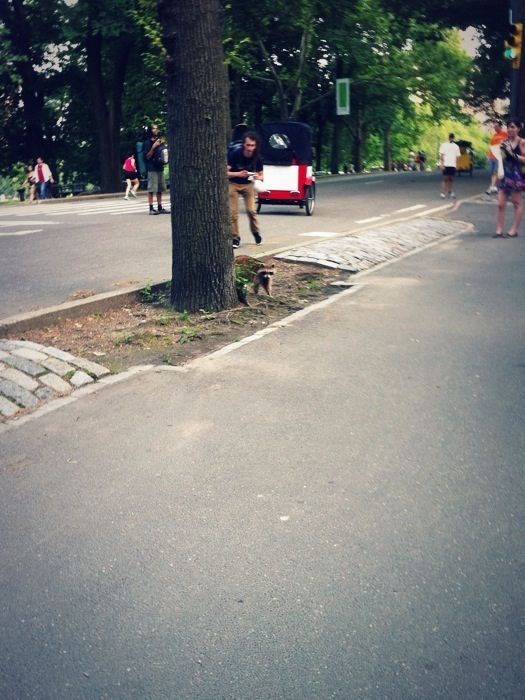 do you think he his on his way to bloomingdale's to buy himself a hat that will be a mistake, as nearly all hats are?
shortly after i took these photos, that raccoon walked right up to a four-year-old boy and everyone in the area gasped! save the boy! but the raccoon just moseyed right on along. a few seconds later, the little boy's dad pulled me aside and said, "you saw that happen, was my kid okay? i wasn't paying any attention."
how do you like that!