i don't think they're real.
my gut feeling tells me this.
adipose tissue tip
attn: nat the fat rat mommy.
your child has a great excess of adipose tissue.
this increases his chances of being a fat man quite a bit.
he needs a slightly less wholesome diet.
you do know these blogs are recruiting tools, right?
these women and their photos may not even be real.
i knew a mormon girl once.
she ate one in&out burger a day
because she said it satisfied her.
(see the rat's photos of hamburgers . . .
have we got a hamburger cult here?)
above you will find one nat, of fat rat fame, ingesting what is likely to be the best cheap slice of pizza on columbus avenue between 68th and 70th street.
just below that, you will find some really awesome comments from the comment section of the
salon.com
article i was interviewed for regarding
mormon lifestyle bloggers
. (don't read the comments. really), including one conspiracy theory, courtesy of an intelligent salon.com commenter.
now. this entire business gives me great pause.
because actually, i
did
survive my entire sophomore year at byu by only eating one half-pound arctic circle hamburger a day, along with a giant order of fries with fry sauce (fryyyyy sauuuuuuce), and an extra large dr. pepper. and oh, it was gooood.
and, i
did
eat enough hamburgers while pregnant for my anemia (doctor's orders!) that i was able to rank with conviction of spirit all of the best burgers in the neighborhood. (best one is shake shack and that is
not
product placement (i wish!)).
even worse: we
did
have plans to go to the shake shack tonight with our friends.
so.
!!
what if i
am
part of a hamburger cult, i started to wonder? do you think i'd know it if i were? or is it like having bad taste in men, you don't think you do, but only you totally do and everybody knows it.
luckily, at the last minute my friend had to work, so we ended up getting a slice instead, which also freed my poor mental state of its nagging cultish mental anguish.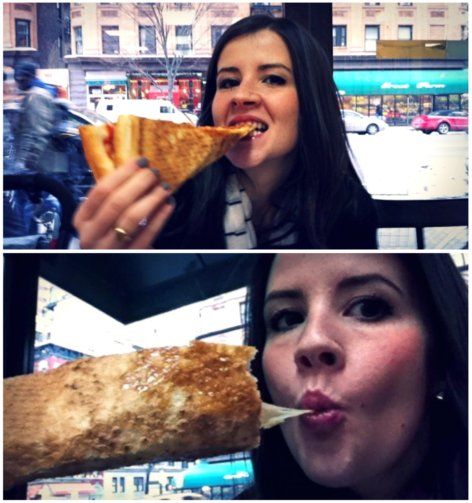 for dessert we had cannoli and hot cocoa at the
shop around the corner
, which is now called "cafe sonatina." they don't allow cell phones inside, which really boiled my gourd! (the cannoli was only so-so. good cocoa though!)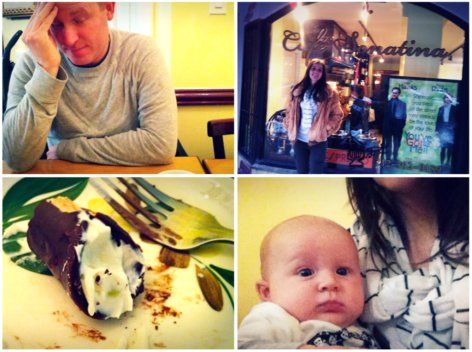 when nursing in public it's important to stay hydrated. fresca does the trick.