I spent half of my day today
laughing at the memory of my ginger sitting at the Met Cafe, eating a PBH and some pudding, and saying to me "Do you remember that whore unzipping my jacket?"
To which I stopped everything I was doing and said, 'WHAT?'
To which The Holbs looked at me innocently and said,
"The horse? Do you remember?"
I
do
remember the horse that unzipped Brandon's jacket, because that was the day I almost died. We rode Brandon's cousin Scottie's dang horses in the snow for ten minutes before mine got all grouchypants and I had the sudden realization that I WAS SOMEBODY'S MOTHER and as such SHOULD NOT BE RISKING MY LIFE.
I spent the other half of my day
congratulating myself on finally figuring out that my baby is not angry or mean spirited, but rather he is sleepy. lightbulbs! I had no idea babies slept so much. All day long, really. Even when they stop falling asleep on their own.
Tricky, those babies.
Less tricky are dogs.
For instance. If you notice a dog is missing, and also so is the other half of your candy cane, chances are high that they are both together, enjoying sweet puppy love making, under your bed.
Dogs are so easy! I should write a book. Healthy Sleep Habits, Happy Dogs. Is what I would call it.
Did you know sometimes you have to help your puppy go to sleep, even when he does not act tired?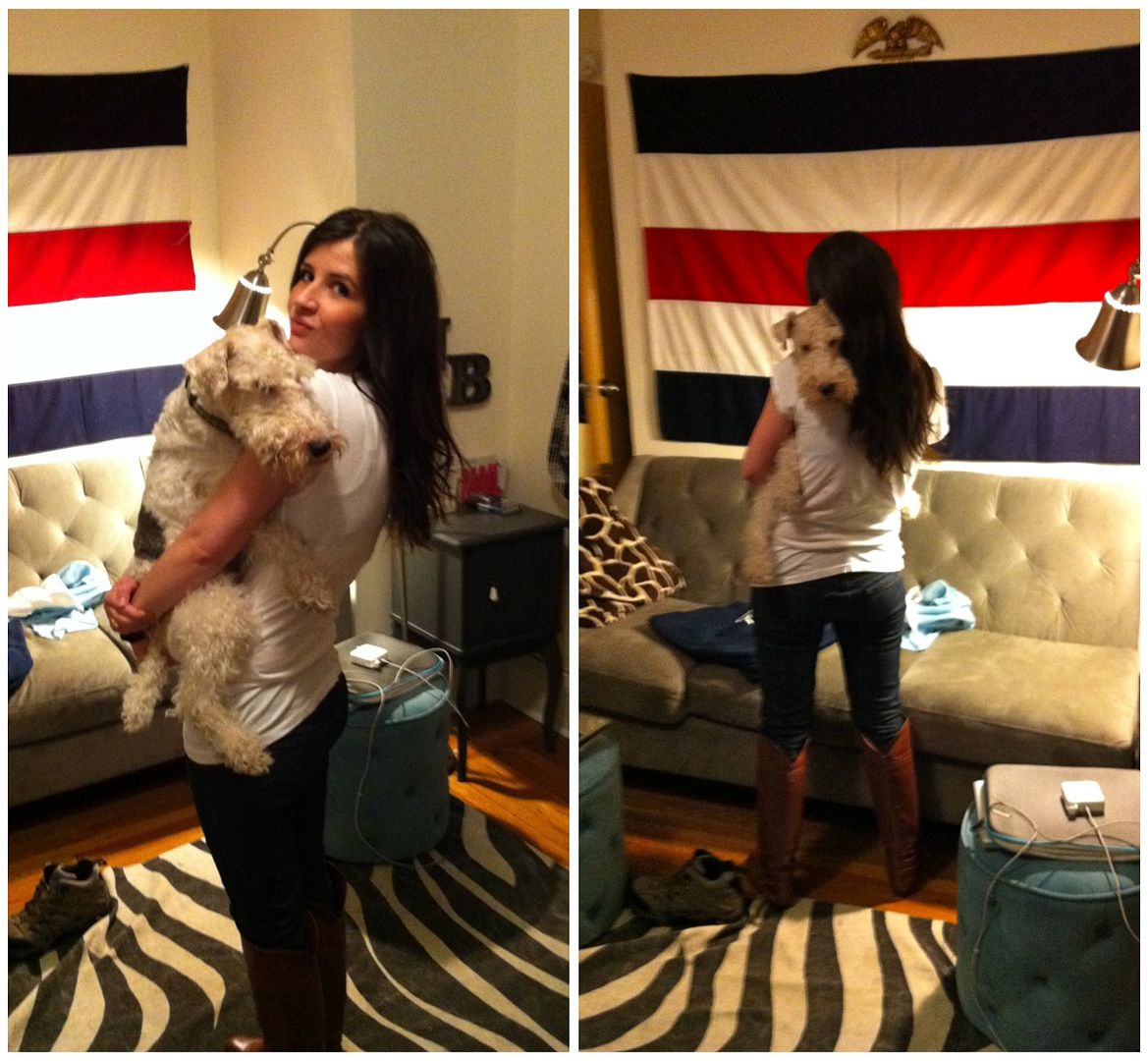 There is nothing worse than an overtired terrier.
The husband is off watching a football game with friends tonight, and so it is just me and the dogs and the off-and-on sleeping baby holding down the fort, and as such there is nobody here to keep me accountable to anything. How many Diet Cokes have I had tonight? THERE IS NO WAY OF KNOWING!
The other half of my day
I spent staring at this part of my apartment:
Oh boy I am turning into my mother, and all I want to do is stare at this corner and ask myself out loud what I am going to do with it.
What am I going to do with it??
It is in my nature to just stick everything that is appealing to me onto the walls and call it good, but I have been informed by The Boss (he wishes) that this apartment is "too small to be cluttered."
Which is too bad, because the other day I acquired these guys.
So.
And now to cap this off, here is Barney: