for our christmas day tree, i'm so honored to share reader amelia markgraff's christmas tree. her story is beautiful and sad and hopeful, and it touched me so deeply. oh gosh i'm so honored to share it. it is amazing stories like this that remind me what a blessing in my life this little blog is. i'm so grateful to have you readers, and to know what amazing people you are over there on your side of the computer screen. it humbles me to my core. and i am so grateful the Savior's birth and for His atoning sacrifice that makes it so all of our families are eternal. thank you dear amelia. merry christmas to your family and to your sweet baby.
***
"Last year's Christmas was silly--my husband and I had just gotten married, and I was working as a nanny spending very little time at my own home. Our first Christmas season as a lovey-dovey married couple was approximately 4-5 days long. Our decorations consisted of a scrappy little Fleet Farm wreath, and a very bare tree. It all felt a little Charlie Brown-y.
By the middle of June 2011 I'd quit my job, and by the end of June we discovered we were expecting our first baby. I did everything a first-time mother-to-be does, and I did it excitedly. Everything seemed rosy and bright. I began jotting down ideas for our Advent calendar activities in August, and scouring Pinterest for tree garlands and homemade ornament tutorials late into the night. I wanted my tree to be glorious! As my belly grew bigger, so did my passion for this Christmas. I considered our first Christmas a mulligan, and vowed to make our second one as jolly and sparkly and magical as possible.
On October 4th, at 21 weeks, our doctor told us we'd lost our baby. I delivered her in the hospital the next day. We got to hold her, and name her, and look at her (that sweet girl had my nose). And then we had to say goodbye. And everything felt sad. I was devastated, and so lonely, and so angry. I dreaded the holidays, knowing that everyone around me was about to celebrate the most wonderful time of the year, while I mourned the loss of my daughter. Christmas seemed stupid and trite, and I hated it.
My husband and I prayed, and our loved ones prayed for us. Slowly and quietly, by the grace of God, our sadness grew smaller. Every day felt a little lighter than the day before. I began to think, How can I be sad, knowing that my sweet little baby is in heaven, about to enjoy the happiest Christmas of all?
Of course I am still mourning. I have my bad days, and my very bad days. My husband still has to hold me. And yes, if I hear "Have Yourself A Merry Little Christmas," I absolutely will cry. But, the spirit of Christmas caught up with me. I made the Advent calendar, the garland, the ornaments--and that tree turned out to be a pretty little thing.
And so.
This year my tree means a whole bunch of things. It means faith--faith in my God, and in knowing that things will get better. It means hope--that someday, hopefully soon, we will have another little baby to hold. And most of all, it means love for my Savior, my family, my wonderful husband, and my sweet little baby girl.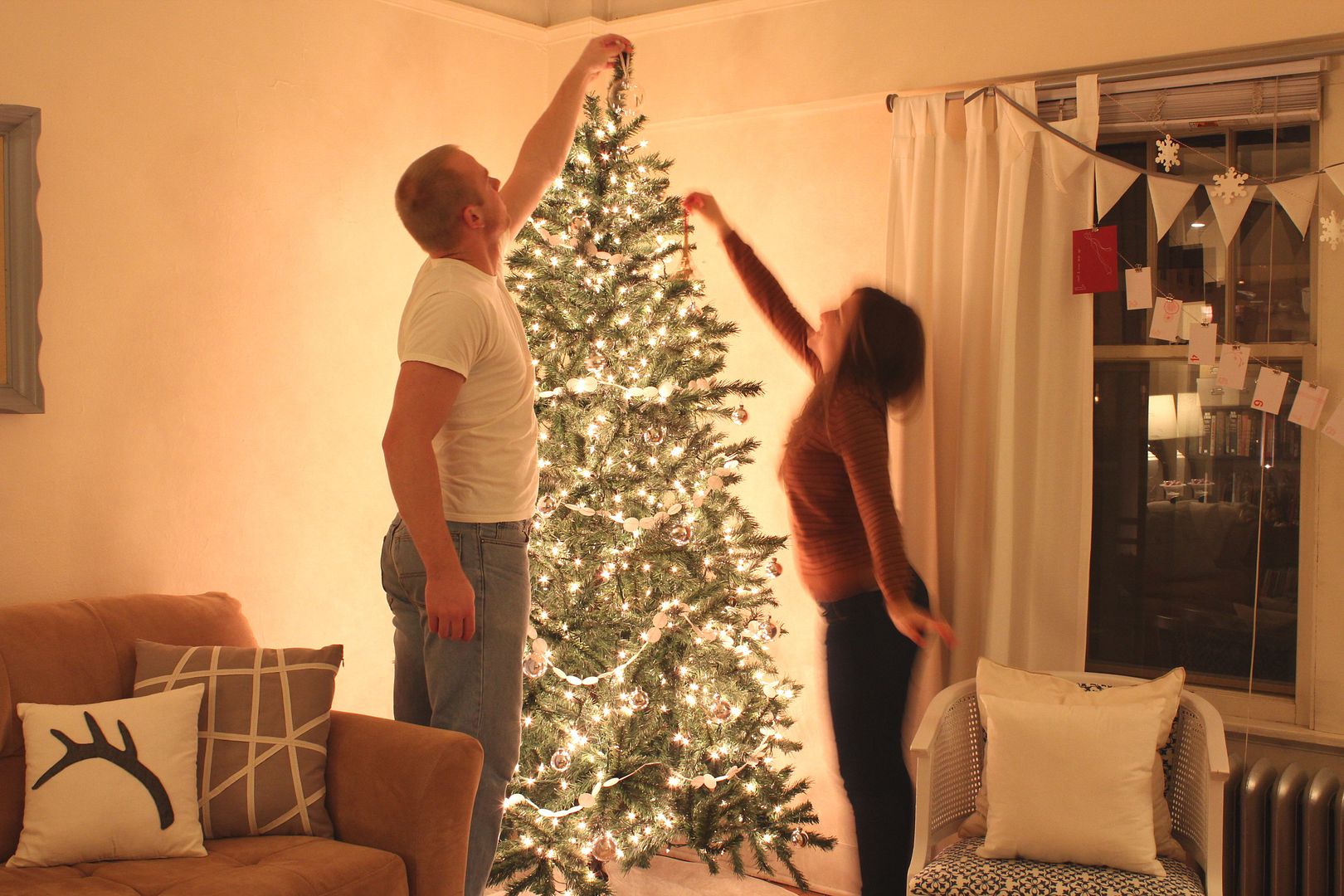 ***
for the rest of the month i'll be featuring the christmas trees of some of my favorite bloggers (and of some of my readers too!) i'll be posting a new tree each day, on top of regular posts from me. so, LOTS of posts in december! ho-ho-hope you enjoy them!