sooooo, the other day i was on the today show.* and i tell you what!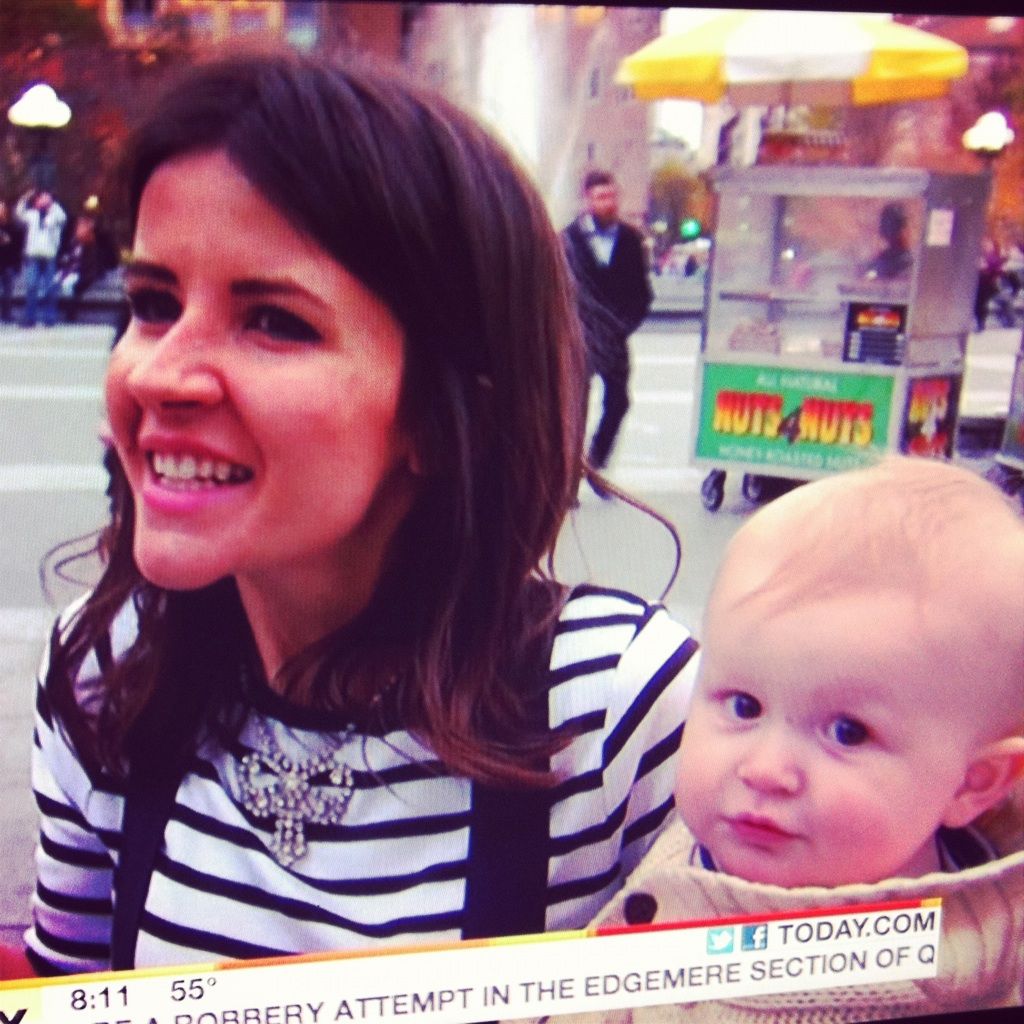 we were at washington square park reinventing that one scene in funny face,* you know the one, when the nbc people stopped me to ask me, are you a mom? and i was like, yes* and then they were like, weelllll, do you have an opinion on michelle duggar having a 20th baby? and i was like, do you people not know me, i have opinions about EVERYTHING.
because i do.*
here's the whole clip:
and here's the cliffs notes version courtesy of my tivo and the camera in my phone getting it on together:
the minute it ended, my phone blew up. texts* and tweets* like crazy and emails* and "was that you on the today show?" and "hey i saw you on the today show!"
rumor soon spread of this natalie person with the golden opinions and how rad and smart and good-looking in stripes she is.
the paparazzi swarmed outside my apartment as i left for the post office to reclaim two lost packages. i was all,
no photos please! except for from my flattering angle--here, let me pose for you!
i signed about twenty autographs between here and broadway alone!
mysteriously, when i got to the post office there were no packages for me? they were like,
you already picked these up
, and i was all,
i did?
and they said,
see?
and showed me the thing, and then i was like,
but then why did i get a second notice?
and then they shrugged at me and we all scratched our heads.* generally that was a pretty entertaining aside so i'm leaving it in here okay?
on my way to trader joes later i spotted regis outside his apartment* and oh boy was he glad to see me! he was all
natalie! you should replace me on regis and kelly! natalie and kelly! i love it!
and then i said,
oh regis you are so cute! i'm too busy having these opinions on people's reproductive choices, but it's so sweet of you to think of me, you're a super cute old guy!*
later, the obamas called. i don't mean to brag, but when the economy straightens out you can thank me.
my alexsister even texted me!*
you're wearing my necklace on the today show! buusstedddd!
but i swear you gave that to me straight up, alex!* whatever.
incidentally and not for nothing, i really do think what the duggars are doing is great. it's not for me, it's probably not for you, but i'm all about the live and let live and the reproductive rights and the exercising thereof. the flip side of reproductive rights is way less fun (though equally as important) so when i see a woman who loves having babies have them to her heart's content, i like it. and when she takes care of them and they grow up to seem happy and well adjusted, i like that too. and sick babies happen. women shouldn't be judged for having more babies if the previous one comes out less than perfect. (and 18/19 is, like, a stupidly high success rate anyway.) so there, today show, that is what i think of the duggars.*
the end.
sentences preceding an asterisk are actually true. the rest are mostly not.
(regis
is
a super cute old guy though)
right, but like i said i was there to reenact that scene from funny face. i really meant that.
photo via
isabelle selby photography